Christmas is the best time of year for kids' crafts because there are just
sooo
many ideas out there - and the best thing is that not only are they a project for the kids, but a wonderful keepsake to pull out year after year to decorate the tree or the mantel for the holiday season.
Photo: everythingleb.blogspot.ca
I
love
these little thumbprint reindeer ornaments (left). I'm going to have each of the kids do one this year - I'm thinking on a matte red ball. If you're doing something like this, don't forget to record which child made it and the year somewhere on the ornament - I use a metallic Sharpie and tuck it in tiny print up near the top on the opposite side.
Photo: thisgirlsblog.com
These handprint snowmen (right) are adorable, too - such a creative idea. These would be better for older kids, I think - the detail with a fine paintbrush or coloured Sharpies would have to be done by Mom for a younger kid, which in my mind defeats the purpose of having the kids make their own ornaments - they're supposed to be made by the kids & kept to remember these precious times when they're small. If we do these this year, it'll just be the older two boys.
Maybe just a handprint for Baby - I have this one (right) from when my oldest was in kindergarten that is one of our most precious Christmas treasures. It lives on the little potted pine tree he's been cultivating since Earth Day last year in the hopes that it will one day be big enough to plant in the yard. Very "A Charlie Brown Christmas."
Photo: mommygaga.com
I like the idea of these handprint reindeer (left) made out of craft foam, glitter and pipe cleaners. We made similar craft foam gingerbread men (below) a few years ago when the boys were quite young, but I think these are really cute and we'll probably give them a try this year.
The boys made these little paper-cup Christmas trees (left) a couple of years ago - cone-shaped paper cups, glued-on macaroni, paint, glitter, sequins and felt scraps. They don't pack away very well and every Christmas we seem to be a few more macaroni bits short, but they're adorable and the kids worked
so
hard on them.
Photo: ucreatewithkids.com
This handprint Christmas tree (right) is a great way to incorporate all the kids in one project and we will definitely be doing this one - but I'd rather take it a few steps farther. I'm thinking real tree bark for the trunk and having the kids decorate the tree with beads and glitter for garland and tinsel and miniature homemade ornaments.
Photo: urbancomfort.typepad.com/urban_nest
These are cute little Christmas characters. The kids and I do toilet-roll projects for every holiday of the year, so of course we'll make Santa and his reindeer and elves.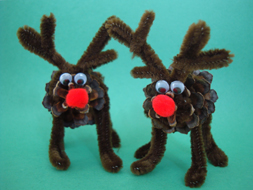 Photo: busybeekidscrafts.com
We've made these adorable pinecone and pipecleaner reindeer (right) before - super easy and festive. I'm thinking maybe we make nine of them this year (only one with a red nose!) and a sleigh made of popsicle sticks - possibly filled with the toilet-roll Santa and his elves?
Let the Christmas crafting begin!