Photo: supermommoments.com
Valentines Day is another fun holiday for crafting with the kids. Here are some of my online finds for fabulous craft ideas this year - we'll definitely be trying these over the next few weeks!
This heart garland (right) made from construction paper or scrapbook paper is a quick and easy craft the kids can do themselves. I think we'll make these and string them around the dining room for our family Valentines Day celebration.
Photo: babygizmo.com
These pretty hanging paper hearts (left) are a great way to use up those odds and ends of craft and scrapbook paper and ribbon and beads that are clogging the kids' craft drawers. I think they'll look cute hanging at different heights from the dining room chandelier.
I love these crayon & wax paper hearts courtesy of
Martha Stewart
(below right). I'm thinking we'll make dozens and dozens of them and hang them in the huge front windows in the kitchen - they'll look gorgeous with all that late afternoon sun streaming through them. And we'll try a few of these "stained glass" glue hearts too (below left), although they seem like a more Mommy-centred craft.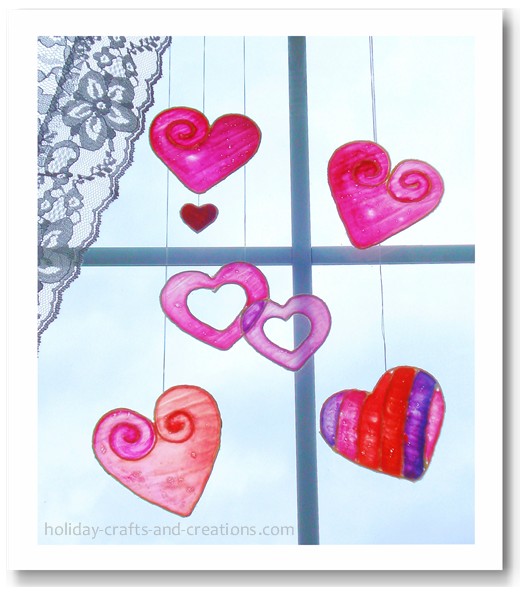 Photo: holiday-crafts-and-creations.com
Photo: crazylittleprojects.com
And I'm thinking these glitter-covered "hugs and kisses" letters could be fun on a plain white table runner in the middle of the dining table.
Photo: amazingmae.blogspot.ca
I like the idea of making a little Valentine gift for the kids' classmates instead of just sending chocolates and candies to school - these salt dough heart necklaces (left) are adorable, and I know the kids will have a blast making them.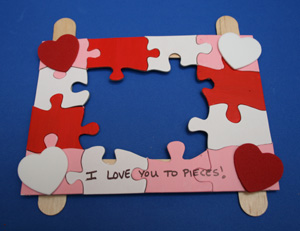 Photo: allkidsnetwork.com
Handmade Valentines are the only way to go for Mommy and Daddy, of course, and I love love love this puzzle picture frame (left) - we will definitely be making one of these for my husband as a Valentines Day gift from the kids. Super cute.
Photo: lifewithoutpink.com
Handprint crafts seem to be a must for every holiday (and what a great way to record the kids' growth when we see the change every year!) This double-handprint making a heart is a sweet one (right). And I can see my boys going crazy stamping everything in sight with this heart-shaped potato stamp! (Below.)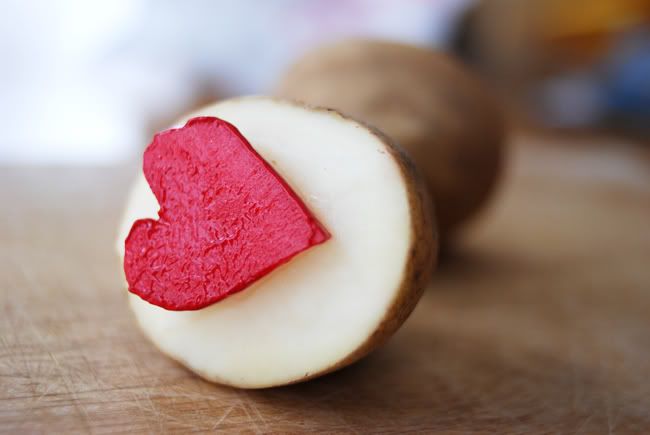 Photo: noeplacelikehome.blogspot.ca
Photo: factorydirectcraft.com
Finally, the kids will need somewhere to keep all those Valentines from their friends, so this little lovebug mailbox (right) is the perfect place.
Happy crafting and Happy Valentines Day!
You might also like...
Valentines Day decor ideas
Rainy-day zoo craft
Christmas craft ideas
Bringing art to life (a special stuffy for my special boy)