March Break is coming - a whole week off school! Maybe you're taking a family vacation out of town. Maybe you're looking for alternatives to child care to make the week feel special for the kids. Maybe you're taking the week off work - or are a stay-at-home parent - and looking for fun things to do with your little ones. No matter what your situation, there are endless amazing family activities to do in and around Toronto to make this March Break memorable for you and your kids.
There are countless options for March Break day camps - every township and municipality offers options for sports, music, drama, dance, arts and crafts and technology camps for kids, and the
Ontario Science Centre
,
Royal Ontario Museum
, and
Art Gallery of Ontario
are all offering specialty camps for kids guaranteed to fill their days with educational fun. These camps are a great alternative to their regular child care situation for those working parents not taking the week off - these camps are packed with unique opportunities for fun and discovery and will really make the kids feel like they've had a March Break treat.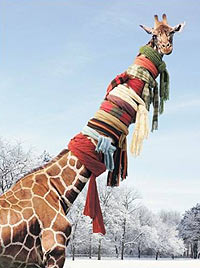 Photo: torontozoo.com
For those parents home with their kids for the week, there are endless fun activities in and around the city to keep the kids entertained and make family memories.
Toronto's classic attractions including the
Ontario Science Centre
, the
Royal Ontario Museum
, the
Art Gallery of Ontario
, the
CN Tower
,
Fort York
, and
Casa Loma
are all open, many with extended hours and special exhibitions and attractions.
The
Toronto Zoo
is always a super fun family day out and is one of our family's all-time favourite field trip destinations. It may seem more like a summertime outing, but there's lots going on all year round at the Zoo!
Black Creek Pioneer Village, normally closed at this time of year, opens March Break with "Sherlock Holmes and the Clock-Maker Mystery" for kids with wagon rides, a puppet show, and a mystery to solve as they explore and discover the Pioneer Village.
There is a family-friendly "Comic Book Heroes" retrospectove series at the
TIFF Bell Lightbox
highlighting some of the favourite comic heroes of all time.
A theatre experience is a wonderful way to spend an afternoon together as a family and a fantastic treat for the kids.
Disney on Ice
's newest musical ice show, "Rockin' Ever After" is playing at the Rogers Centre and
Scooby-Doo Live! Musical Mysteries
stage show is playing at the Sony Centre, both guaranteed to be big fun for little ones (and Mom and Dad, too!)
Meet Scooby Doo live at
PawsWay Toronto
at Harbourfront! This free event includes games, activities, giveaways, and is fun for the whole family - even your dog!
Photo: blog.backpackersondundas.com
City Hall, Harbourfront Centre and most outdoor municipal rinks are open for ice skating (all free!) thanks to the recent sub-zero temperatures - strap on the skates, bundle up and head out for some free fun on the ice with the kids. Don't forget to warm up with a hot chocolate afterwards!
Bundle up in mittens, hats and scarves, pour a Thermos of hot chocolate, and take the kids outdoors for the day - try your ice rink, tobogganing hill or hiking trail, build a fort or a snowman in the backyard, "paint" a masterpiece in the snow with spray bottles full of water and food colouring.
There are so many fun things to do in and around the city to make this March Break memorable and fun for the whole family!
You might also like...
Outdoor winter fun!
Fun, free things to do with the kids